TO GET BEYOND BED BUGS AND FOR MORE BED BUG EDUCATIONAL INFORMATION ON HOW TO KILL BED BUGS, PLEASE CALL BED BUGS AND BEYOND AT (888) 410-1333

Bed Bug Educational Information
BED BUGS ARE SMALL INSECTS THAT FEED ON HUMAN BLOOD. THEY ARE USUALLY ACTIVE AT NIGHT WHEN PEOPLE ARE SLEEPING. ADULT BED BUGS HAVE FLAT, RUSTY-RED-COLORED OVAL BODIES ABOUT THE SIZE OF AN APPLE SEED AND ARE BIG ENOUGH TO BE EASILY SEEN, BUT OFTEN HIDE IN CRACKS OF FLOORS, FURNITURE, OR WALLS. WHEN BED BUGS FEED, THEIR BODIES SWELL AND BECOME BRIGHTER RED. THEY CAN LIVE FOR UP TO A YEAR WITHOUT FOOD OR WATER

Bed Bug Educational Information….WHAT DOES A BED BUG BITE FEEL AND LOOK LIKE?
Most bed bug bites are initially painless, but later turn into large, itchy skin welts and do not have a red center as is typical in flea bites.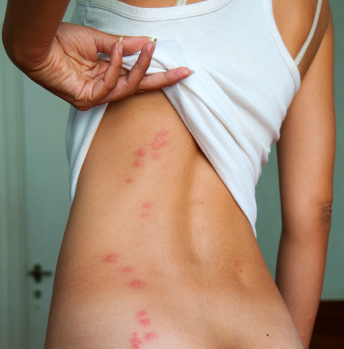 Courtesy BedBugs.org
HOW DOES A HOME BECOME INFESTED WITH BED BUGS? 
In most cases, people carry bed bugs into their homes unknowingly, in infested luggage, furniture, bedding, or clothing. Bed bugs may also travel between apartments through small crevices and cracks in the walls and floors. A Professional treatment of Sulfuryl Fluoride fumigant is a KEY component to successfully killing bed bugs and other pests.
ARE BED BUGS DANGEROUS? 
Bed bugs are a nuisance, although they are not known to spread disease they have been linked to skin irration and infections.
HOW DO I KNOW IF MY HOME IS INFESTED WITH BED BUGS? 
You may notice itchy skin welts or may see the bed bugs themselves, small bloodstains from crushed insects, or dark spots from their droppings. It is often hard to see them because they hide in or near beds, or other furniture with fabric, and in cracks.
HOW CAN I KILL BED BUGS? 
Leading Scientists and Government Health Departments recommend that bed bug victims kill bed bugs by hiring only pest control specialists who are bonded, insured, and licensed by the Department of Environmental Conservation (DEC). Be sure you hire a licensed professional and ask to see a copy of their license or check directly with DEC by calling (718) 482-4994.
Bed Bugs Educational Information… Bed Bugs and Beyond your source for bed bug fumigation services and elimination!